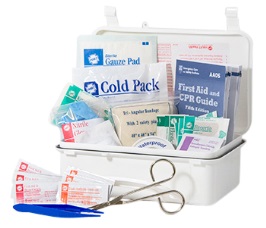 7-11/16″ x 4-9/16″ x 2-3/8″
Price $14.95
Convenience: Small items are organized together in moisture resistant, resalable bags. Cases can be wall mounted. A contents list located in the lid assists in restocking supplies.
Versatility: Designed to provide complete first aid protection in a wide variety of workplace situations and will serve up to 10 people.
Quality and Economy: Containing the highest quality fills kits offer exceptional value.
Durability: Is housed in a high-impact, lightweight polypropylene box featuring a weather proof gasket seal, positive catches, a combination handle/hanger and one piece construction with a living hinge. These kits are silk-screened with "First Aid" on the cover for quick identification.
Comprehensive fill of exceptional quality
Convenient and versatile
Economically priced

Durable polypropylene box
Contents List
1 Adhesive Tape, 1/2″ x 90″ roll
3 Adhesive Bandages, 1″ x 3″, light weight woven
3 Adhesive Bandages, Finger Tip
3 Adhesive Bandage, Knuckle
1 Cold Pac, instant cold, 5″ x 6″
3 First Aid and Burn Cream
1 First Aid Booklet
1 Forceps, plastic, disposable
3 Gauze Pads, sterile, 3″ x 3″
1  Gauze Roll, stretch, sterile, 2″ x 4.1 yds
1 Gloves, nitrile, pair
1 Scissors, first aid kit type
1 Triple Antibiotic Ointment, 0.9gm
1 Triangular Bandage, muslin, with pins
1 Wound Wipes